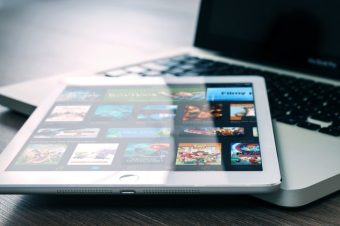 Are you a movie lover? Would you like to see any movies or TV shows from the comfort of your own home, without paying any money? Stream movies and TV shows wherever you are, whenever you want! All you need is a stable Internet connection.
This page on nadapay.com will show you some of the best tried and tested websites where you can stream movies and TV shows free of charge. 
"Streaming is a method of transmitting or receiving data (especially video and audio material) over a computer network as a steady, continuous flow, allowing playback to start while the rest of the data is still being received" -definition from Oxford Languages.
We have made sure that all websites are safe and aren't a threat to your personal data or computing system. Most if not all streaming websites have some pop ups, fake notifications and ads which you need to be aware of. It is of utmost importance that you don't click on them or install any programs that it asks you to because you could be putting yourself and your computing device at risk.
Some websites stream just movies, others just TV shows, and others stream both. Nadapay.com has categorized these sites to ensure that you find exactly what you are looking for!
Movies and TV Shows:
Tubi offers a wide range of movies and TV shows of all genres, without any subscriptions or fees required. Visual and audio quality is up to standard and doesn't buffer much. If you're into watching the latest releases this might not be the ideal site for you, however it does boast some hits and blockbusters from the last 20 years or so.

Any movie enthusiast knows that IMDb is one of the most popular and reliable sources when it comes to movie ratings and reviews. Their services don't stop there! They also have a free streaming platform with hundreds of films and series and IMDb original productions. Since the company is owned by Amazon, IMDb TV is only available on Fire TV devices or on your computer. 

Crackle is Sony's free movie and TV show streaming service. The plethora of movies and TV shows found on this website are all undoubtedly projects of Sony themselves, among them some good productions like All In the Family and Charlie's Angels.

SolarMovie is one of the newest streaming platforms that's gaining popularity. It boasts many high quality links for the latest movies and TV shows, as well as blockbuster movies and modern classics. You can easily filter by genre and country to find exactly what you are looking for. The best part is that you can use SolarMovie on any device!

123Movies is probably the most popular streaming site on this list. The movies and TV shows have excellent visual quality at 1080p and stream with little to no advertisements or pop-ups. 123Movies has one of the vastest ranges of films and series to choose from, guaranteed that you can watch whatever it is you desire, from new releases to modern classics!

This is a new streaming site which is acknowledged for its lack of ads and pop-ups, offering you the smoothest and most enjoyable experience possible. Boasting a large collection of movies and TV shows from over the years, you're bound to find something you enjoy watching for sure!

Streamm4U is a free streaming service with numerous films and series to choose from. With relatively few ads and no buffering or lag, you can easily sit back, relax and enjoy without spending a dime! In case your movie doesn't work properly, there's a link below to take you to a backup server, ensuring you get to see your choice of movie/TV show.

MoviesJoy offers a clear 1080p HD visual experience as well as speed. You can search for your favourite movies and TV shows or browse through their content by genre, country, and more. There may be a few ads and pop-ups but they can easily be closed and ignored.

Streamcr contains links in 1080p High Definition, for both movies and TV shows, new and old. You can have a look at their collection by category, genre or release dates, or you can simply search for what's next on your to-watch list.

SpaceMov is a streaming service that hosts videos in 1080p for a High Definition experience. It has a relatively large selection of movies and television programs to choose from. Unlike most other sites, SpaceMov also gives you the ability to watch the trailer for the show/film before watching it.

XMovies8 has a basic and simplistic interface, making it super easy to use. Offering its users many choices for movies and TV programs in good quality, it also unfortunately makes use of many pop-ups and ads which tends to be frustrating. 

This free streaming site enjoys over 1500 movies and television shows from numerous genres like comedy, family, romance, action, thriller, horror, and much more. No account is required and you can enjoy an almost ad-free experience with PopcornFlix.

Movies:
AZMovies has an impressive collection of movies from all genres. They are streamed in the best 1080p and 720p quality with barely any buffering or lagging. The website's slogan states "Watch your favorite Movies here without any limits, just pick the movie you like and enjoy! It's free and always will be."

Shout!Factory is different to other streaming services. Their content includes cult, underground, and weird foreign films. Most of the movies here are from the 1980s, so don't expect any new releases.

GoStream is a movie streaming site that boasts great speed and 720p streaming quality. It is ad-free and functions easily on any device. The only downside is that GoStream doesn't have any TV shows available to stream.

TV Shows:
NOXX is part of the same company as AZMovies and streams just TV Shows as opposed to AZMovies which only streams movies. It has a wide range of programs to choose from, including latest episodes and classics of all genres. You may encounter a few pop-ups but apart from that you shouldn't find any problems.

Crunchyroll is your go-to anime streaming site. It has hundreds of anime series and a few live-action Japanese dramas to stream all for free! You can also discuss the episodes you've watched in the community section. What's more, there's also a random button which directs you to the first episode of a random anime series.